Think healthy dinner and the picture that'll pop into your head will be boiled vegetables and salads – flavour-less bowls of food that are sure to put you off. The popular notion is that if it's healthy, it's probably not delicious. On the other hand, if it tastes good, it's probably not healthy. But what if we told you, that healthy food can also be tasty. What if we told you that you don't have to compromise on taste while still eating healthy? 
You don't have to look too far either, the answer to tasty yet healthy dishes is – Indian cuisine. We have such a great mix of mouth watering dishes that are made out  of healthy ingredients. There's a ton of variety in our food and most dishes are mouth watering and packed with useful spices and herbs. That we cook in traditional ghee makes the food even tastier and healthier. So here are some easy healthy dinner recipes that you will love to eat over and over. 
Jump To
1. Sabudana khichdi
Ingredients:
How to make:
2. Palak Paneer
Ingredients:
How to make:
3. Butter Chicken (low fat)
Ingredients:
How to make:
4. Vermicelli Biryani
Ingredients:
How to make:
5. Vegetable Stew
Ingredients:
How to make:
6. Vegetable Chickpea Curry
Ingredients:
How to make:
7. Cauliflower Bowls
Ingredients:
How to make:
8. Creamy Carrot Soup
Ingredients:
How to make:
9. Biryani with Tofu
Ingredients:
How to make:
10. Red Curry Lentils
Ingredients:
How to make:
1. Sabudana khichdi 
The best and comfort food, khichdi is light and easy to prepare. It is a well-known dish but is know by different names across the country. It is made with two basic ingredients – rice and lentil. This is a great combination for upset stomach. However, you can find many variations across the length and breadth of the country. But this version of khichdi is cooked with sabudana (tapioca pearls) and it's garnished with saffron. 
Ingredients:
Sabudana 
Peanuts 
Ghee
Cumin seeds
Curry leaves 
Green chilli 
Boiled potato 
Salt 
Coriander leaves
Lemon juice 
How to make: 
Add Sabudana to a bowl and wash it with water and rub it between your hands to remove the starchy white material from the product. 
Repeat this thing one more time to remove the impurities from the Sabudana. 
Now keep the Sabudana soaked in water for 4 hours. 
After 4 hours check if the pearls have been soaked properly by pressing one or two in between your fingers. 
If they are soaked well they will get mashed well. 
Now replace the bowl and add the soaked Sabudana in a new bowl with no water. 
Start prepping up by roasting peanuts until they turn golden brown. Set them aside after roasting them. 
Now add ghee in a pan. 
When hot, add cumin seeds, curry leaves, ginger and green chillies. 
Saute this for a minute and then add boiled potatoes. 
Then saute for a minute or two and add salt to the mixture. 
Add Sabudana to the pan and stir continuously. 
Stir it until you see that the sabudana has turned transparent. Don't overcook as they will become sticky. 
Now add lemon juice, coriander leaves and roasted peanuts. 
Enjoy the meal! 
2. Palak Paneer
A dinner recipe which is so flavorful palak paneer is a luscious gravy dish that you can savour with rice or roti. It is made with cottage cheese (paneer) slices or cubes doused in the gravy of flavorful spinach curry. Spinach is one of the most nutritious green leafy vegetables that you can include in your healthy diet. This vegetable is loaded with lots of antioxidants too. 
Ingredients: 
Spinach
Water
Oil
Cumin Seeds
Green Chillies
Turmeric Powder
Red Chilli Powder
Ginger and garlic Paste
Onions chopped
Chopped tomatoes 
Garam Masala Powder
Paneer cubes
Ginger
How to make: 
Heat 2 tablespoon of  oil in a pan and fry cinnamon, cardamons, cloves and cumin seeds until they sizzle. 
Add onions and fry them until they turn golden brown. 
Add ginger and garlic paste and fry until it doesn't smell like raw.
Add tomatoes and fry them until they turn mushy with added salt as per your taste. 
Add garam masala, saute until the mixture turns the oil aside. 
Pure half cup of water and cook the mixture. 
Now lower the flame and then add pureed spinach. 
Cook it well and then add paneer cubes. 
Add a little cream on top. (optional) 
3. Butter Chicken (low fat)
This is for all the non-vegetarian food lovers. Here is a delicious recipe of a low fat chicken cooked without any butter! But this will not disappoint you or your taste buds. 
Ingredients: 
Chicken chunks 
Large onions
Cinnamon stick 
Cloves
Bay leaves (tej patta) 
Garlic paste
Cardamom 
Large tomatoes 
Salt 
Red chilli powder 
Coriander powder 
Turmeric
Green chilies
Coriander leaves 
yogurt or curd 
Oil 
How to make: 
In a pan take 2 table spoon of oil. 
Now add onions, cinnamon, bay leaves, cardamom and garlic paste to the pan and saute until the onions are golden brown. 
Switch off the gas and put this mixture aside. Churn the mixture with yogurt or curd, chopped tomatoes until turn in a smooth paste. 
Now take the earlier pan and saute chicken in left over oil of onion.

Add salt to taste, red chilli, coriander powder, haldi, green chillies. 

Finally, let chicken cook until oil starts floating on the top. 

See the colour of the tomatoes – they should be red by now. 
Garnish it with coriander before serving.      
4. Vermicelli Biryani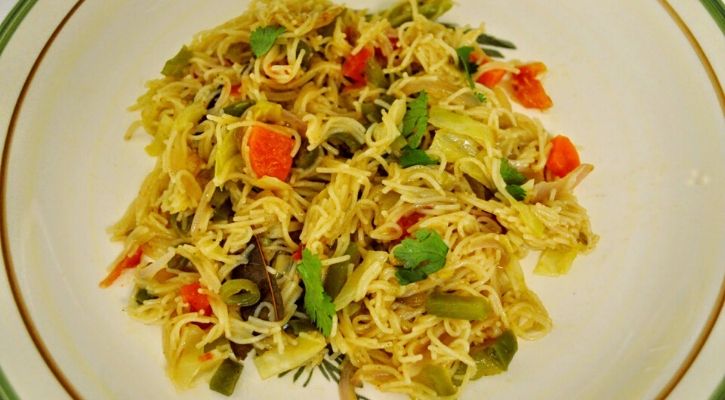 Vermicelli is a versatile, healthier ingredient that you can add to any rice recipe. This can be easily made with the same ingredients of biryani and once cooked, it tastes just like it. Just replacing rice with vermicelli and cooking with the same ingredients and herbs can bring the difference. Try it at home for dinner.
Ingredients: 
Roasted Vermicelli 
Carrot 
French Beans handful, finely chopped
Capsicum
Onion
Green peas
Garam Masala
Dhaniya Powder
Biryani Masala 
Turmeric 
Jeera/Cumin 
Oil 
Onion 
Fennel 
Coriander leaves
Garlic 
Ginger 
How to make: 
To make the ground paste you need onion, fennel seeds, green chilli, coriander leaves, cloves, garlic and ginger. Add these to the pan and saute them until they turn golden brown. Blend these into a smooth paste.  
In a pan put two teaspoon oil and put the pan on medium heat. 
Add jeera, once you see that oil has started sizzling. Add onions and saute them until they become translucent. 
Add carrot, capsicum, greens and beans and slowly saute them. 
Now add turmeric, salt, garam masala, biryani masala, daniya powder and mix them well. 
Add the ground paste to this mixture along with vermicelli. Add water to the mixture and cook with a lid till boils. 
Check if the vermicelli has been cooked. 
Enjoy your biryani dressed with fresh coriander leaves. 
5. Vegetable Stew
A stew is a dish which needs very little time and few ingredients and it's light on the stomach too. Choose veggies such as carrots, cauliflower and beans and prepare the stew along with cloves, cardamoms, cinnamon, green chillies, ginger and coconut milk. 
Ingredients: 
Cauliflower florets
Chopped carrots
Bell Peppers chopped
Potatoes Chopped
Chopped Onions
Green beans Chopped
Ginger paste
Chili 
Garlic paste
Cardamom Pods See Notes
Cinnamon stick
Cloves
Whole Cashew Nuts
Coconut milk See Notes
Salt to taste
White Pepper Powder see notes
Oil See Notes
Water
How to make: 
Cut carrots and zucchini into cubes. 
Heat oil in a pan, add onions and saute till you see them turning translucent. Add celery and continue to saute for a minute. 
Add potatoes, carrots, zucchini and cauliflower and stir. 
Add refined flour and stir continuously. 
Add vegetable stock and salt, cook for five to ten minutes or till the time vegetables are cooked. 
Add green peas and mix the whole thing. 
Add spinach and mix well. 
Add milk to the mixture and let it come to boil. 
Serve hot with garlic bread. 
6. Vegetable Chickpea Curry
Loaded with protein and delicious taste, this chickpea curry is made with regular staples, throw in fresh spinach for a pop of green and you are ready for your dinner. This is not just good in taste but also are great for your health. Easy to cook and is delicious for dinner time. 
Ingredients: 
olive oil
Onion
Garlic cloves (Minced) 
 broccoli 
bell pepper 
diced tomatoes
coconut milk
vegetable broth
chickpeas
1 teaspoon cumin
coriander
 cinnamon
turmeric
Salt + pepper to taste
Coriander leaves to garnish
How to make: 
Heat the oil in a large pan and add onion and garlic, saute them until fragrant, about 3-4 minutes.
Add broccoli, pepper and chickpeas and saute for another 2 minutes. 
Pour in the tomatoes, coconut milk and broth with the spices, salt and pepper. 
Bring the mixture to boil. Once boiling, turn down to a simmer and cover for about 30 minutes. 
When ready to serve, stir and transfer it into bowls. 
7. Cauliflower Bowls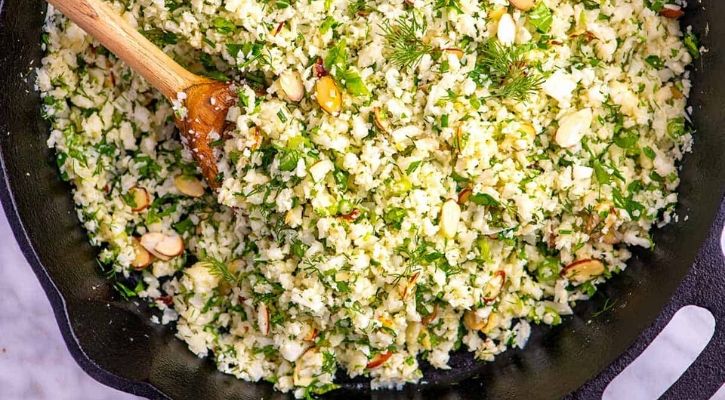 If we swap chicken for cauliflower to make a meatless version of this classic dish. This bowl is a perfect set for dinner, it has protein and vitamins which makes it healthy and subtle spices that will not affect your diet and will help you in continuing in achieving your fitness. 
Ingredients: 
White or brown rice
Cauliflower florets
Olive oil
Black beans, rinsed and drained
Water 
Tomatoes (Chopped)
Small onion (Chopped)
2 limes 
Fresh Coriander (chopped) 
Corn, 
Avocado
How to make: 
Start by cooking the rice first. You can cook the rice as normal. 
Now start cooking the cauliflower, heat the oven to 425 degrees. You need florets of cauliflower with olive oil and half of the seasoning. Sprinkle with salt and pepper. 
Roast for 20-25 minutes, tossing halfway through to prevent burning and make sure you check it every 10 minutes.  
Now let's start cooking beans, combine the black beans, water and remaining seasoning in a pan and shimmer it on a low flame. 
Mash the black beans with the help of the spoon until mixture seems creamy. It should continue to thicken as it stays over medium low flame. 
On the other hand, toss the tomatoes, onions, limes, and coriander together to make a nice seasoning for the bowl. Add salt to taste. 
Transfer three of the things in bowl, top the bowl with your roasted cauliflower and rice with seasoning. 
Dress it with lemon wedges, avocado and coriander leaves.
8. Creamy Carrot Soup
Creamy soups are a great choice for dinner. This is made with coconut milk, curry powder and carrots, this soup is a mouth-watering dish to have for dinner. 
Ingredients: 
Butter
Olive oil
Onion (chopped)
Celery (chopped)
2 cloves garlic (chopped)
Fresh thyme or parsley (chopped)
Carrots (chopped)
Water
Vegetable broth
Salt
Pepper to taste
How to make: 
Heat butter and oil to a pan and add onion and celery cook and stir occasionally, until softened. 
Add garlic and thyme and cook, stirring until fragrant about 10 seconds. 
Stir carrots, add water and broth, this should be done on a high flame. 
Now you can reduce heat to maintain the shimmer and see if the ingredients have become tender. 
Puree the soup in a blender until smooth. (Be cautious with hot liquid) 
Stir it and add salt and pepper for taste. 
9. Biryani with Tofu 
Biryani is a dish which is made of rice and cooked with cloves, ginger and star anise and usually filled with ingredients like nuts and raisins. Here you would be missing the chicken but if you could replace that with marinated baked tofu. This dish is filled with protein and can bring a lot of health benefits to your body. 
Ingredients: 
Basmati rice
Water
Vegetable oil
Onion (minced) 
Garlic cloves (minced) 
Ginger peeled (minced)
Tomatoes (Diced)
Cardamom pods
Ground coriander 
Cumin 
cinnamon
Garam masala 
Salt
Tofu (diced) 
Raisins
How to make: 
In a small pot, combine the rice and water and bring to a boil over high heat. Later reduce heat to the lowest setting and cook these for 15 minutes. Remove it from the heat and let it sit with a cover for 10 minutes.
In a frying pan, heat the oil over medium heat. Add the onion and cook until it is soft and turned into lightly brown colour. Add garlic and ginger, cook for about a minute or two. 
Add tomatoes, cardamom, coriander, cumin, cinnamon and garam masala with salt to taste. You have to cook this whole mixture for 3-4 minutes. Remove it from the heat and stir the tofu and raisins. 
Put half of the rice in the bottom and layer the tofu in between and add another layer on top and then the tofu layer. Cook this for about 20 minutes in  pot and enjoy the meal later.
10. Red Curry Lentils
We've turned your boring everyday daal into a tasty curry that you can pair with rice. It's rich in proteins and tasty too. 
Ingredients: 
Lentils
Onion (diced)
butter
Red curry paste
Garam masala
Curry powder
Turmeric
Sugar
 Garlic (minced)
Ginger (minced)
Cayenne pepper
Tomato puree
Coconut milk or cream
Coriander for garnishing
rice (serve) 
How to make: 
Cook the lentils according in a pot normally with water. 
Now start to melt the butter in a large pan and put this on medium flame. Add onions and saute them for few minutes until golden.
Start by adding the spices, curry paste, garam masala, curry powder, turmeric, cayenne pepper and garlic ginger and stir this for about 1-2 minutes. 
Add tomato puree and stir until smooth. 
Add lentils and the cream, stir to combine and simmer it for 10-15 minutes. 
You can serve these with rice. 
Categories: Recipes
Source: vtt.edu.vn